Welcome Weekend Herb Blogging
I am honored to begin the week of shabes trume, month of Oder (Adar) and the Chinese Lunar New Year by hosting Weekend Herb Blogging, an event created by Kalyn to explore and rejoice in the many leafy layers of the plant world. I hope that some of the herbal offerings herein will provide the needed oomph to start this very important week, month, and year.
Isaiah at Gluten-Free By the Bay grows her own rosemary and adapted a recipe for rosemary polenta triangles to make it vegetarian, kosher, and wheat-free. They also look irresistible.
Helene, from Neues aus der Küche, in Landau, Germany, made a dip with two of my favorite ingredients: parsnip and parsley. She provides as well a useful bilingual overview of parsnipology.
Katerina, at Daily Unadventures in Cooking was hugely successful with this rich and salty rosemary feta spread.

Ruth from
Once Upon a Feast,
in
Toronto, Canada,
starts us off with an
herb-infused menu
designed for dieters, but appealing to anyone with its vivid herbiness.
Chris from Mele Cotte, outside Atlanta, GA, made an interesting dish that combines spinach, pine nuts, and cranberries to accompany crab cakes remoulade. Chris owns as she did not care for spinach when she was little, but later succumbed to its verdant enchantments.
Our fearless leader Kalyn, at Kalyn's Kitchen in Salt Lake City, Utah, brings together the unbeatable combination of white beans, tomatoes, and pasta. Kalyn has found that slow-roasting and then freezing the tomatoes when you pick them can bring some sparkle of summer to these cold winter days.
Genie, the Inadvertent Gardener in Iowa City, Iowa, finds she has thyme on her hands after helping prepare an herb risotto for Valentine's Day—a perfect example of "a dinner of herbs where love is" (Proverbs 15:17)
Asha at Aroma in North Carolina provides some interesting information about green bell peppers, with which she made a vividly herbed and spiced chicken and bell pepper kurma.
Gattina, at Kitchen Unplugged in New Jersey made an unusual and colorful batch of savory herb shortbread. Are they not the prettiest things?
Katie at Thyme for Cooking in Vendee, France puts together practical and very healthful spinach burgers with mushroom sauce. This kind of thing can be very comforting.
Ulrike from Kuchenlatein (another bilingual blog) in Kronshagen, Germany delves into the history and lore of the bay leaf and prepares a bay-scented red wine beef stew.
Sher, at What Did You Eat in Davis California took advantage of her pretty fresh thyme bushes to make thyme croutons, a main ingredient in a colorful salad of bitter greens.
If I were a gentlewoman of leisure, I would set aside several hours a week to look at Ilva's Lucullan Delights from Pistoia, Tuscany. As it is, I spend several hours a week anyway looking at this gorgeous blog. This week Ilva made a creamy zucchini soup with oregano and lemon. You can almost smell the spring coming.
Pookah, at What's cooking in Carolina, from the Triangle, NC, has prepared a dish that is one of the two here I can't wait to try first. It is a leek pie in a buttery crust—What's not to like. The recipe in Joanne Weir's From Tapas to Meze.
Astrid, at Paulchens Foodblog in Vienna Austria has put together an unusual banana and ginger chicken and potatoes, with many helpful pictures and details.
Here's a surpassingly cool technique I never saw before: Anh of Food Lover's Journey in Melbourne, Australia, uses sticks of sugarcane as the central armature in this beautifully constructed roll. Yet another reason to love Melbourne!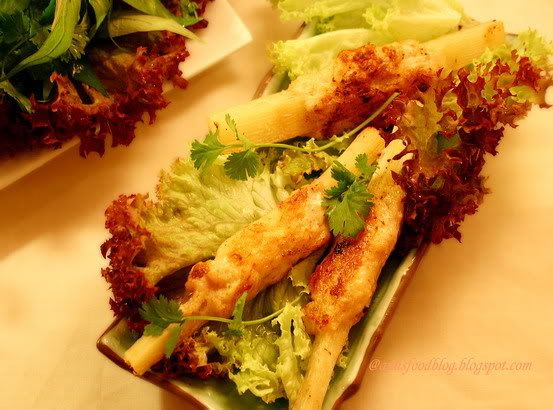 Anna at Morsels and Musings in Sydney, Australia is celebrating the New Year of the Pig with a pig-centric feast including many wonderful seasonings and these elegant water chestnuts.
Zorra, at Kochtopf, in Andalucia, Spain, made a Canadian lentil stew, flavored with marjoram, apples, sultanas, and white wine. Sorry I could not reproduce the photo, but go have a look.
Burcu, of Almost Turkish Recipes from Bloomington, made the other recipe that will be first on my to-try list, menemen, or Turkish scrambled eggs with mixed vegetables. This looks very comforting.
Rinku, from Cooking in Westchester, made two kinds of spicy vegetable pakoras this week, and shares her musings on chile peppers.
And thanks to the long weekend, I am so glad to be able to include this interesting twist on apple torte, by Haalo from Cook (Almost) Anything at Least Once from our beloved Melbourne.
My own contribution is this fiery chicostle and nut sauce. Happy New Year, a gite vokh un a gitn khoydesh to all in mol araan. Thank you Kalyn and many, many thanks to you-lot, weekend herb bloggers.
Food and Drink, Recipes, Cooking, Food, nut salsa, Chilcostle chile, tuxtla chile, Weekend Herb Blogging, whb